In March, I wrote a post called 2017 in Books, Thus Far where I shared all the books I had read so far this year and my thoughts on them. Well, it is time for part two. Since then, I have over 20 books, so I am not going to share them all with you, just some of the highlights, in no particular order. Ready? Lets dive in!
This Darkness Mine by Mindy McGinnis
I bought this book the day it came out. I loved Mindy McGinnis's book The Female of The Species (which I mentioned in pt. 1 of this series). The novel follows Sasha Stone, who is first chair clarinet and top of her class, who is used to everything going a certain way. When she finds herself attracted to the school's bad boy and that she absorbed her twin in the womb, she is worried her heart isn't really hers at all. This book is dark, powerful, and captivating, and well I haven't decided if I like it as much as The Female of The Species, I still believe it is a must read in 2017.
10 Things We Did (And Probably Shouldn't Have) by Sarah Mynowski
On the exact opposite end of the spectrum from This Darkness Mine, this book is fun and youthful. 16 years old, April, convinces her parents to let her live with her friend. Unsupervised, these two girls plan to make the most out of it and they do some things they probably shouldn't have. If you are looking for a book to brighten your mood on a grey day, I recommend picking this one up.
How to Be a Bawse: A Guide to Conquering Life by Lilly Singh
I mentioned this book in My Current Favourites about a month back but this post wouldn't have been complete without mentioning it. Lilly Singh is a popular YouTuber. Her debut book is full of life lesson, helpful advice and hilarious stories. It is inspiring, funny, and motivational. Everyone has to read this book.
The Upside of Unrequited by Becky Albertalli
I adore Becky Albertalli's first book, Simon vs. The Homo Sapiens Agenda (which I talked about in my 2016 Favourites). Therefore, I had to pick up her new book and I wasn't disappointed. The book follows twins Molly and Cassie as they fall in love. It is beautiful written and was basically impossible to put down. If you haven't read either of Becky Albertalli's books, I highly recommend both of them.
History is All You Left Me by Adam Silvera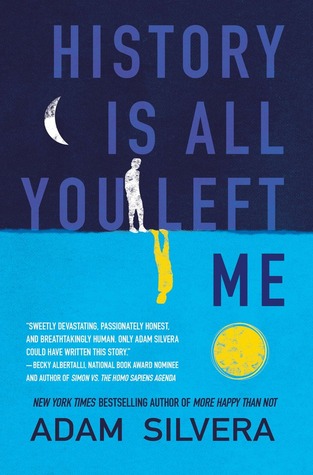 This story explore mental illness, loss, and what happens when you hold onto the past. Meet Griffin. His first love and ex-boyfriend, Theo, dies unexpectedly in a drowning accident. He has to deal with loss and heartache and the only one who understands his pain is Jackson, Theo's current boyfriend. Get ready for a boatload of emotions with this book, in a good way.
Letters to The Lost By Brigid Kemmerer
I just finished this book and it literally made me tear up a bit. Juliet lost her mom in a car accident and the only way she can cope with the loss is to write letters to her mom and leave them at her grave. Declan lost his sister in a drunk driving accident. He reads the letter that Juliet wrote and writes back. They connect immediately and share things they have never shared with anyone else. It is emotional and powerful.
What books have you been loving recently? Let me know in the comments below!
Featured Image: Death to Stock