It has been a while since I have posted about books. In the last few months of 2016, everything got really busy and I didn't give myself time to read. In the new year, I started listening to audiobooks, which was so much more convenient. Since 2016 started, I have read/listened to 6 books, and I wanted to share my opinion of them with you. Ready? Lets dive into the land of books.
Nice is Just a Place in France: How to Win at Basically Everything by The Betches
What I expected when I picked this up was a funny and entertaining book. However, while it had a few funny moments, most of it made me mad at society. Basically, it is a guide of how to be a Betch, which is a "brutally honest and self-aware young women," according to betches.com. Full of quotes like, ""If you find yourself caring about something, just remind yourself that you don't need to give a fuck. Caring is for nice girls," this book stands for everything I am against. The worst part was that I couldn't tell if they sincerely believed in everything they wrote or that they thought it would be funny. I defiantly don't recommend this book.
I Hunt Killers by Barry Lyga
This was a refreshing change. I struggle to find good mysteries and Barry Lyga wrote one of the best crime stories I have ever read. The story follows Jazz, the son of the world's most famous serial killers, as a new killer starts killing in his home town. The community starts looking at Jazz as the culprit, causing Jazz and his friends to hunt down the actual killer to clear is name. It was incredibly well done and I recommend this to anyone who loves a good crime novel.
Binge by Tyler Oakley
I am a huge fan of Tyler Oakley and was so excited to read this book. And it didn't disappoint. It was a collection of hilarious, personal essays talking about everything from eating disorders to coming out to his rise to fame. It is witty and inspiring. He self-narrated his audiobook and took a few chances to speak directly for the listeners. If you were planning on treading this, I recommend picking up the audiobook. And if you are a fan of Tyler and have yet to read this book, you are missing out.
Year of Yes: How to Dance It Out, Stand in The Sun and Be Your Own Person by Shonda Rhimes
If you don't know who Shonda Rhimes is, then you must be living under a rock. She is the creator of several hit TV Shows, including Grey's Anatomy, Scandal, and How To Get Away With Murder. This book recounts her experience when she took the challenge to say yes to everything. Similarly to Tyler Oakley, she self-narrated her audio book and it was amazing, funny and inspirational. After listening to this, you can see her voice and personality come across in the characters she created. It is a must read listen.
The Conspiracy of Us by Maggie Hall
As a huge fan of Ally Carter's books, I was extremely intrigued to read the book. With a secret society and an ancient prophecy, Maggie Hall writes a captivating novel that follows the life of Avery West, who finds out she is a part of one of the most powerful families of the world and is the key to an ancient prophecy. I absolute loved this novel and can't wait to read the next one.
Yellow Brick War by Danielle Paige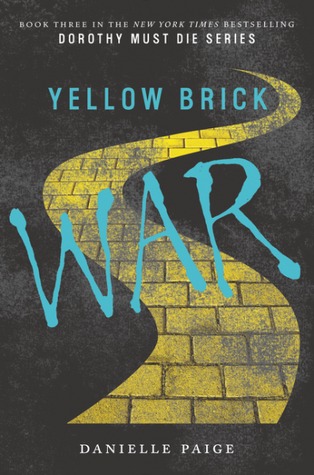 Everyone knows the story of Dorothy and Oz. Danielle Paige takes this classic story and turns it on its head. In this version of this story, Dorothy becomes hunger for power and a new girl from Kansas, Amy Gumm, is sent to Oz to kill Dorothy. As the third instalment of the Dorothy Must Die series,  Amy continues on her quest to kill the most powerful person in Oz or else Oz and Kansas will be destroyed. Although I prefer the first instalment of this series, I did enjoy this novel and I definetly recommend this series to anyone who likes modern takes on classic novels.
What novels have you been reading recently? Let me know in the comments below!
Feature Image: Pinterest