Like most summer months for me, July and August were filled with lots of books, so many that this post would have been way to long if I recapped all of them. Therefore, here are only my top 5! Ready? Let's get started!
"Lara Jean didn't expect to really fall for Peter.
She and Peter were just pretending. Except suddenly they weren't. Now Lara Jean is more confused than ever.
When another boy from her past returns to her life, Lara Jean's feelings for him return too. Can a girl be in love with two boys at once?"
Next up in P.S. I Still Love You by Jenny Han, which is the sequel to To All The Boys I've Loved Before. I rated this 4/5 stars because I found that, although it was good, I preferred the first book. I felt like Lara Jean's personality was less unique and more flat and boring in this book, which I didn't really like. Overall, I think if you have read To All The Boys I've Loved Before, you should pick this book up, and if you haven't read either of these books, what are you doing with your life?
"#1 New York Times bestselling author D.J. MacHale is back with the third book in the SYLO Chronicles. Once again, Tucker Pierce and friends must fight for their lives against the better-equipped SYLO. All bets are off in Strike—with twists so big readers will never see them coming—while the action and pulse-pounding suspense remain as high as ever. Fans will be sure to devour this incredibly satisfying conclusion."
On to the third book in the SYLO Chronicles, Strike, which I also rated 4/5 stars. This is the final book in the series, which makes me sad because I really enjoyed these books. They were action packed, and reminded me of the Maze Runner books. If you want a new book to read, and you enjoyed the Maze Runner series, than I recommend picking up this series.
"I have a plan.
We'll either destroy them for good, or they'll destroy us.
Either way, only one of us is walking away.
In the stunning conclusion to the wildly popular White Rabbit Chronicles, Alice "Ali" Bell thinks the worst is behind her. She's ready to take the next step with boyfriend Cole Holland, the leader of the zombie slayers…until Anima Industries, the agency controlling the zombies, launches a sneak attack, killing four of her friends. It's then she realizes that humans can be more dangerous than monsters…and the worst has only begun.
As the surviving slayers prepare for war, Ali discovers she, too, can control the zombies…and she isn't the girl she thought she was. She's connected to the woman responsible for killing—and turning—Cole's mother. How can their relationship endure? As secrets come to light, and more slayers are taken or killed, Ali will fight harder than ever to bring down Anima—even sacrificing her own life for those she loves."
As some of you may know, if you read my July and August Favourites, Queen of the Zombie Hearts was my favourite book over the past two months and I rated it 5/5 stars. I am not a zombie fan but the White Rabbit Chronicles are an exception. This book is a mix between romance, action, girl power and adventure. I couldn't put this book down it was that good. I 100% suggest this book to anyone, even if zombies aren't their thing.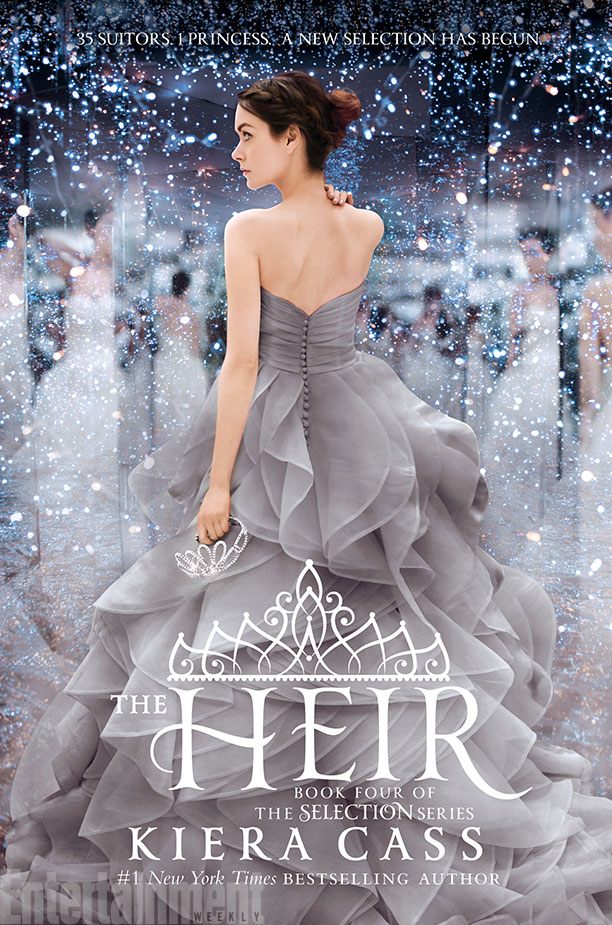 "Princess Eadlyn has grown up hearing endless stories about how her mother and father met. Twenty years ago, America Singer entered the Selection and won the heart of Prince Maxon—and they lived happily ever after. Eadlyn has always found their fairy-tale story romantic, but she has no interest in trying to repeat it. If it were up to her, she'd put off marriage for as long as possible.
But a princess's life is never entirely her own, and Eadlyn can't escape her very own Selection—no matter how fervently she protests.
Eadlyn doesn't expect her story to end in romance. But as the competition begins, one entry may just capture Eadlyn's heart, showing her all the possibilities that lie in front of her . . . and proving that finding her own happily ever after isn't as impossible as she's always thought."
I know a lot of people who do not like The Selection books, but I would have to disagree. I rated this book 3.5/5 stars because, even though I really enjoyed the book, I had a few problems with it. One, I am kind of tired of the futuristic America rebellion books. It isn't that I don't like them, but I think a new book trend is long over due. Also, I think the author is dragging out the series. I believe, at the end of the third book, she wrapped up the series really well. Therefore, I think this book should have been more of the first in a companion series than the fourth in the original series. With that being said, I still really enjoyed the book and if you are looking for a book with a strong female lead, I strongly suggest The Selection.
"A popular guy and a shy girl with a secret become unlikely accomplices for midnight pranking, and are soon in over their heads—with the law and with each other—in this sparkling standalone from NYT-bestselling author Anna Banks.
It's been years since Carly Vega's parents were deported. She lives with her brother, studies hard, and works at a convenience store to contribute to getting her parents back from Mexico.
Arden Moss used to be the star quarterback at school. He dated popular blondes and had fun with his older sister, Amber. But now Amber's dead, and Arden blames his father, the town sheriff who wouldn't acknowledge Amber's mental illness. Arden refuses to fulfill whatever his conservative father expects.
All Carly wants is to stay under the radar and do what her family expects. All Arden wants is to NOT do what his family expects. When their paths cross, they each realize they've been living according to others. Carly and Arden's journey toward their true hearts—and one another—is funny, romantic, and sometimes harsh."
I picked up Joyride because I loved The Syrena Legacy series, which is by the same author. Because I loved previous work by the author, I started this book with high expectations, and it certainly did not disappoint. It was romantic and funny but what I loved most about it were all the plot twists. Also, the main character, Carly Vega, was sarcastic and really entertaining, which was refreshing. Overall, I gave this book 4/5 stars and would recommend this book to anyone, no doubt about it.
What books did you love in July and August? Let me know in the comments below!
P.S. Want to see what I read in June? Click here!